Your Virtual Adjuster powered by Bulldog Adjusters is a VIRTUAL damage claims management technology. We help our partners get the support they need to sell more jobs and get on more roofs.
Let Us File Those Damage Claims
With our unique approach to damage claims, we help roofers grow their business by selling and closing more storm and damage jobs. We take the claims processing side out of residential roofing so that you only have to focus on the roofing itself.
We integrate with roofing companies to help streamline and increase their insurance sales and processing.
Our dedicated team of damage claims specialists file, estimate, negotiate, and settle your customer's property damage claims. We also make sure to keep you and the homeowners involved every step of the way.
With our app, you will be notified of when payments are being issued, have access to your dedicated account manager, and keep track of your sales team and their referrals!
Your team can even scope a property with just a few simple clicks. Just send us your pictures and measurements; we'll handle the rest.
WITH JUST THE SWIPE OF YOUR FINGER, YOU'LL HAVE –
A FREE Comprehensive Claims Binder
– a comprehensive estimate
– manufacturer specifications
Weekly Claim Updates
Do you want to spend more time selling roofs…and less time getting ghosted by PA's? We've got you covered!
With the app, you'll have access to a dedicated account manager who will provide you with weekly updates on all of your damage claims. They also keep you in the loop of where your customer's claim is holding. We are always just a phone call away and are ready to help.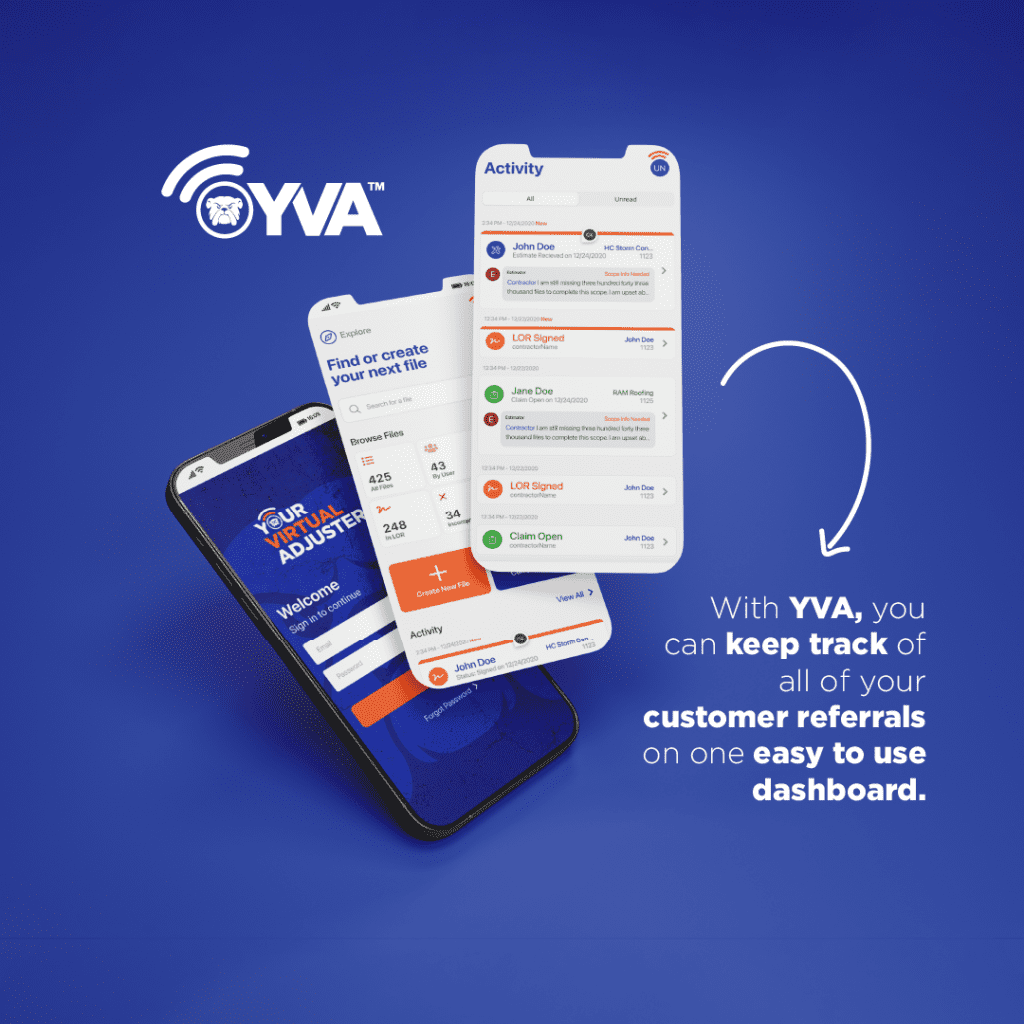 Educating Your Sales Team on Damage Claims
Through our comprehensive 90-day onboarding program, we educate owners, admins, and their sales teams about what it truly means to navigate the damage claims process. It's designed for contractors of any level to teach them not only HOW to properly take photos and measurements but WHY it's important for them to do so.
We understand how effective real education can be we've created an exclusive training process. This training provides you with the tools you need to be confident in your ability to grow your roofing business.
– Without proper documentation and photos of the loss, the time to file and submit for approval is elongated. In some cases, the contractor is required to return to the job and retake photos.
– Our team of educators provides weekly training with your sales team to help navigate your customer's property damage claims $50K or less regardless of their roofing industry experience.
– We educate our partners on the benefits of working with a licensed public adjuster when other PAs cannot be at a loss with the help of our app.
After taking our class, your sales and administration teams are at an advantage when it comes to quoting and submitting insurance claims so you can focus on what you do best – roofing!
What Happens Next?
Your Virtual Adjuster handles the entire claims process for you!
Are you ready to make insurance claims easier than ever?
Take advantage of your Complimentary Growth Call + Get 25 FREE Postcard Mailers on us! Give us a call today at 855-775-7550 and schedule an onboarding on our home page!
Let us focus on claims so you can focus on roofing.
Related: The 2 Most Common Types of Residential Damage Claims